"Food And Cooking Has Always Been My Principle Passion"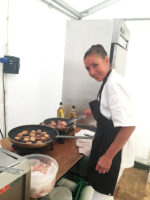 Food and cooking has always been my principle passion, so having graduated from University with a degree and a masters, I put my creative energy into cooking and gained experience in various areas of the catering industry before finally opening my own bar-restaurant. Since, I have become a mother of two boys and chosen to work closer to home. I now focus on my principle passion: fresh, delicious, exciting food designed for parties.
Great food doesn't have to be complicated but it does depend on great ingredients. Quality produce is very important to me. I source my meat locally from two award winning butchers, I choose seasonal, local organic produce whenever possible and my fish monger is second to none.
I believe party food should be relaxed and fun, never take itself too seriously and positively entice guests to simply tuck in and enjoy themselves. My style of cooking reflects this attitude. I'm big on colour, freshness and vibrancy, interesting textures and unusual combinations. Most of all, however,I'm talking about the type of tasty, mouth-watering and sometimes decadent food that is about pure gratification……..it is a party after all!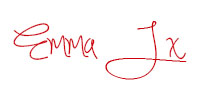 What Our Clients Are Saying About Emma J's
---
Hi Emma, I just wanted to say a big thank you for our delicious meal on Friday night.
Everyone all said how perfect the food was. I was so happy with how smoothly it went and how scrummy all 3 courses were. Regards.
Rebecca Coombs
Hi Emma. Thanks so much for Friday night. The food was absolutely delicious and I have had loads of great comments about it - the scallops were definitely my favourite! 
Shona Keene
Hi Emma. Just wanted to say a huge thank you for delicious canapés, great staff and such a fab service. I couldn't have asked for anything more and my kitchen was left as if you hadn't been there!  Many thanks once again.
Jo Houghton