Fun

, Fresh, H

ealthy

 

and

 Lovingly H

ome-Made
Catering for  Children's parties  -  Toddler parties  - 
Food for Adults 
 Picnics  -  Themed parties
I believe passionately in fun, healthy foods to fuel our little ones. Whatever your party needs, I will produce a tempting selection of exciting,colourful and delicious food and drink for all ages and appetites. Whether it be watermelon hedgehogs, oven-baked fish and chip cones, or chocolate and marshmallow glitter kebabs; all my food is home cooked and prepared using fresh, wholesome ingredients- so no nasty additives.
I have two small boys of my own so know first hand how stressful and exhausting preparing for a children's party can be! Let alone the pressure on Mums to produce a show stopping feast. Therefore, I work closely with parents, taking into account any dietary requirements and tailoring the menu to suit their unique celebration. Let me take care of the time consuming food preparation so that you can simply enjoy the party!
SAVOURIES
(Child-sized main meal)
---
Oven-baked fish and chip cones
Mini cheese burgers
Cheesy pasta
Chicken caterpillar kebabs
Honey and soy salmon with sesame noodles
Crunchy chicken fingers and oven-baked chips in a cone
Hot dogs in soft rolls
Sticky chicken drumsticks
Baked potato boats with assorted fillings
Chicken fajita wraps
Assorted mini pizzas
NIBBLES
(Served on platters/in buckets)
---
Oven-baked fish and chip cones
Cheesy butterfly puffs or pizza puff wheels
Pinwheel and stripy assorted sandwiches
"Lunch on a stick"
Mini kiddie canapes
Home-made sausage rolls
Nachos covered in melted cheese with freshly made salsa or sour cream dip
Cherry tomato and cheddar kebabs
Crudités and dips: blanched sugar snaps, carrot, red pepper and cucumber batons with hummus and sour cream dips
Mini tortilla wraps with salad and assorted fillings
Vegetable rissoles
SWEETS
(Served on platters)
---
Colourful assorted cupcakes
Fresh fruit chocolate fondue
Sparkly shortbread stars
Smartie and honeycomb fridge cake
Jelly boats
Triple chocolate brownies
Blueberry flapjacks
Fruit skewers hedgehog style
Chocolate and candy magic wands
Mini rainbow candy trifles
To
Drink
Sugar-free fruit squash or bottled water is included in the price. Individual fruit juices are available at an extra cost
Prices and Menu Selection Ideas
Little Nibblers Buffet (ideal for toddlers)
From £7.95 per head 
Choose 4 nibbles and 3 sweets

Mini Munchers Meal
From £9.75
Choose 1 savoury 3 nibbles and 2 sweets
Party Food Boxes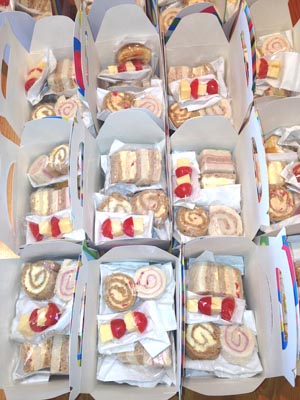 Come in attractive colourful boxes and include a small age/gender appropriate toy
Included:
Pinwheel and stripy assorted sandwiches
&
Either Cheesy butterfly puffs or Pizza puff wheels
&
Either a home-made sausage roll or vegetable rissole
&
A Cherry tomato and cheddar kebab
Two of the following sweets:
Sparkly shortbread stars
Triple chocolate brownies
Smartie and honeycomb fridge cake
Blueberry flapjacks
Chocolate and marshmallow glitter kebabs
Chocolate and candy magic wands
I cater for a minimum of 10 children*.
*Many people require catering for adult guests. Please contact me to discuss the options
My buffet menus are only a guide. Please feel free to discuss with me alternative menu ideas.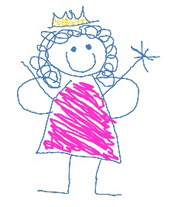 Other Services
In addition to a show stopping spread of exciting food I can offer:
Party Bags
Designed with your child in mind. From £3.25 per child.
Themed bags are also available.
Tableware
My food is presented on colourful platters. All chips cones and food buckets are included in the price.
Themed or basic white disposable tableware can be included at an extra cost.
Adult Catering
Many people require catering for adult guests. Please contact me to discuss the options
Entertainment
Little Bean's World:
Little Beans Parties offer an individually tailor made service, creating your themed party what ever you decide on. All traditional party games, prizes, imaginative role play etc will be themed to your chosen character/theme. Parties are charged at £90 per hour and we offer an hour, an hour and a half or two hours entertainment.